🎨Personalize Your Tires!🎨
Choose from 12 vibrant colors, these permanent waterproof markers will make your tires totally unique.  
Get 1 For $12.99
Get 12 PCs For $39.99 (SAVE EXTRA $100 !!!)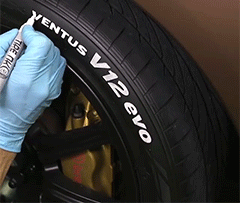 Usual pens and markers will fade away within hours, ours don't!
Ice cold Siberia or hot Australian Outback? Our pens will last under any condition!
😋Decorate your tires in multiple colors
✅One of the best products for all car enthusiasts who are looking for an easy way to cover up any color damages. Or make their car look fancy, for that matter!  Waterproof Tire Paint Pen can do it all!!!🙌
✅Fixing any scratches can be pricey but there is an easier way to do it in your garage, completely by yourself. This Paint pen is water-resistant, odor-free, non-toxic and durable. You can choose from 12 different colors and you'll find your color easily.😲
✅This product is so easy to use,Remove the plug, shake the pan and press it against the scratch, until the color comes out. Now you can cover the scratches, or draw something to have unique car tires as no one else does!🎁
FEATURES
Make your tires stand out and look awesome!
Choose from 12 vibrant colors
Match your car's color!
Non-toxic, permanent paint, odorless and water resistant
Lasts Up to 1 Year
Works on all tires, including Motorcycles, Bicycles, Cars, Trucks, ATVs and More!
SPECIFICATIONS
Item Weight: 1PC-25g, 12PCs-300g
Size: 14.3*1.5cm
HOW TO APPLY
Clean the tires with soapy water and scrub the tire on the area you plan to paint.
Shake the pen WITH THE CAP ON for 30 seconds.
Prime the pen by pushing it down multiple times until the paint starts to flow.
Start writing, the First outline the letter and then work your way in. After completing all the letters and allowing the paint to be dry to touch, add another layer. We recommend 2-3 coats for an even finish.