Food attractants have the functions of high efficiency in attracting food, promoting growth, improving disease resistance and high resistance to aquatic animals.
The effect of temperature resistance and hypoxia resistance is safe, non-toxic and no residue. Contains extremely sensitive fish sulfonium molecules that stimulate the
Smell and taste, induce appetite, increase food intake.

You just lost a fish attractant improve the activity of fish and promote the hunger of fish
promote the rapid diffusion of bait taste in the water and quickly lure fish main ingredients adding nano micro factors can quickly penetrate into water molecules.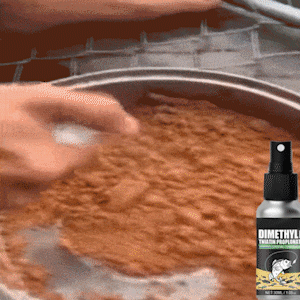 FEATURES:
GATHER FISH TO STAY FISH: After entering the water,the trapping taste spreads rapidly and has a strong temptation to fish.

LIGHTNING LURE FISH: Mellow taste,strong penetrabili and irresistible temptation to freshwater fish.

STRONG BROAD SPECTRUM: Crucian carp.grass bream,black pit wild fishing Four seasons explosive protection, north-south communication and killing.

LONG STAY FISH: Long action time, good fish retention effect, stimulating sensory nerves and not leaving the nest.

QUICKLY LURE FISH: Improve fish activity and promote fish hunger, which has achieved rapid fish attracting effect.

RECIPE: Master formulas, a variety of attractants, trace elements to refine highly concentrated stock solution.
HOW TO USE:
Prepare bait and small medicine, pour the bait into the bait pot and spread it out.

Take an appropriate amount of water, spray the product into the water to dilute.

Pour the small medicine into the bait basin and stir well.

After the small medicine is completely absorbed and agglomerated, the bait is completed.
SPECIFICATION:
Capacity: 30ml

Size: 10.5*2.9cm / 4.1*1.1inch

Weight: 38g

Shelf life: 3 years

Package: 1*Fishing Bait Fishing Agent
NOTES:
Due to manual measurement, please allow slight measurement error.

Due to the different display and light effects, the actual color of the item may be slightly different from the color showed on the picture.