Are you still worried about rust being difficult to deal with?
The paint surface is dull, the paint surface is corroded, the paint surface is aging?
Don't worry! Our "Car rust removal spray" will help you solve the problem easily. Great for rust from tools, metals, cast iron, car parts, etc.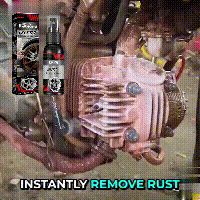 Multi-function in one, cleaning and decontamination, rust removal, renovation, rust prevention, lubrication, care, etc.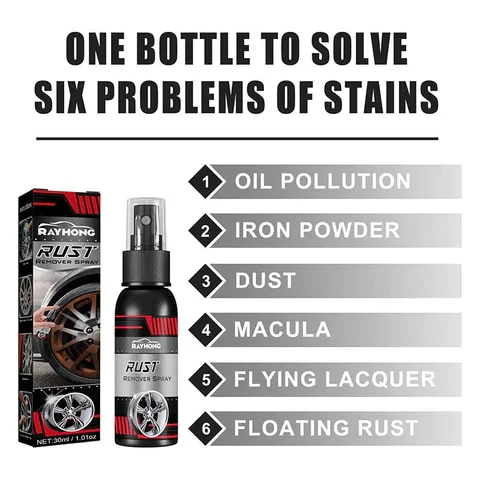 Easily removes rust without sanding!
It is the easiest-to-apply, fastest drying rust converter. It takes existing rust and transforms it into an inert coating, sealing out moisture and preventing future rust and corrosion.
FEATURES
Easy To Use: Our Rust Remover is so simple and easy to use that almost anybody can pick up the spray and put it to work. Simply spray on jammed machine parts, nuts, bolts, and any other rusted appliances without any dismantling. Rust is instantly removed in one use!

Prevents Oxidation and Eliminates Corrosion: With the instant anti-rust effect, you will never look back! The waxy coat can cling onto the metal surface for months and protects the surface from oxidation. Instantly restore shine and PREVENT the RUST from growing back again making all things old look brand new!

No Special Equipment Required! There's nothing better than a pocket-sized rust destroyer, which requires no special equipment! Simply only the Rust Remover spray and a cleaning cloth are needed. Sometimes a little sandpaper for those tougher surfaces.

Safe and Non-Toxic Fumes: Our product is safe to use around children and pets, the spray is free from fumes and chemicals. Our Rust Remover is safe to use on multi-surfaces, safe on paint, metal surfaces, plastic, and vinyl. Also, with a non-conductive feature, you are free to spray on electric appliances without causing short-circuits.
SPECIFICATIONS
PACKAGE
NOTE
Please allow slight measurement deviations due to manual measurement.
Due to the different monitor and light effect, the actual color of the item might be slightly different from the color showed in the pictures.