😋Still cutting plastic wrap by hand tearing, a knife or scissors?
Don't waste plastic and your time!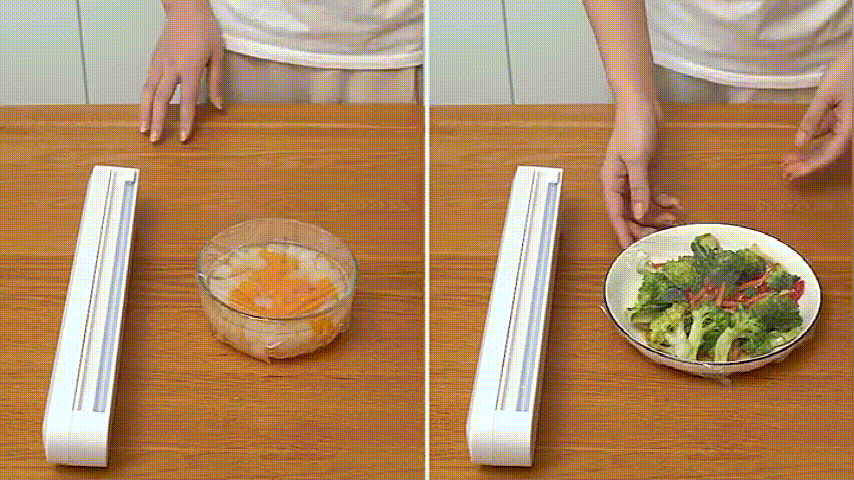 Our dispenser is easier to cut plastic wrap, safety to use, durable, light weight, provides effortless, precision cutting. It's very handy.
Features:
NEW DESIGN& SiZE: Modern + fashion + simplicity,

bidirectional cutting button with cutter head, bottom with 8 micro sucker, four magnet adsorption, clean good texture and the groove design, brighten kitchen decor.
HIGH QUALITY:Made of ABS material, high temperature and low temperature resistance, durable, non-toxic and no smell.

Bidirectional slide cutter button,

pull out amount of wrap you want without using the hazardous hacksaw blade or scissors.

The little cutter cuts it perfectly, not folded or stuck to itself plastic over dish.
EASY TO USE & SAVING TIME: It's not only can

cut plastic film

but also can

cut aluminum foil.

It will help you

prep or clean up in a kitchen quickly and efficiently.

Besides, it fits easily in a kitchen drawer,

the 8 suction cups on the bottom of this dispenser work very well-they can fix kitchen counter, smooth desktop, refrigerator, etc.
How To Use:
Open the lid to grasp edges of wrap;
Pull wrap to the desired length;
Close lid and cut wrap by pressing firmly on both sides.
ONLY suitable for the size of the 10.6-12in*2.35in plastic wrap.
Product Details:
Package Includes:
Cling film cutting tool x 1