👨‍🔧💦
Washable and reusable double-sided tape that keeps things in place without slipping.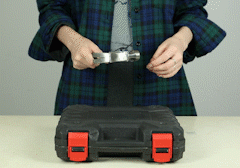 FEATURES
💧Multifunctional tape: Our clear double-sided tape made of high quality PVC is very strong and durable. Easy to install, no tools required, no curing or drying for instant gluing.
💧Easy to use, no cutting required: You can also customize it to suit your needs. It can easily be cut to any size or length you want. All you need to do is stick the tape on the surface of the item.

💧Tearable and Reusable: The tape can be peeled off without leaving any adhesive residue, and it is easy to tear without damaging the surface. If you need to reuse the tape, please wash it with water and dry it to restore its adhesion. (Note: It is not recommended to use it on a cracked wall to prevent the wall from falling while removing the tape.)
VERSATILE USE:

This double-sided tape can be stuck to almost any smooth surface, so you can stick anything anywhere. You can use it to affix or paste pictures, photos, picture frames, wall stickers, posters and other items, hooks, shelves, cell phone holders, carpets, flower pots, caps, decorations, crafts, etc.
SPECIFICATIONS
PACKAGE